Recently, Viva Biotech successfully held two "Appreciation Receptions" in both Boston and San Diego. The receptions attracted nearly 160 entrepreneurs, scientists, and partners in the biomedical field from those areas.
The receptions focused on Viva's recent developments and highlighted innovative technologies, which several executives shared. Dr. Zhixiong Ye, CSO of Viva Biotech, emphasized the capabilities and applications of Viva's chemistry services in early-stage drug discovery and development and highlighted several our emerging technologies such as chiral separation, peptide synthesis, and CADD. In addition, he also introduced Viva's PROTAC technology, which has been a topic of conversation in recent years.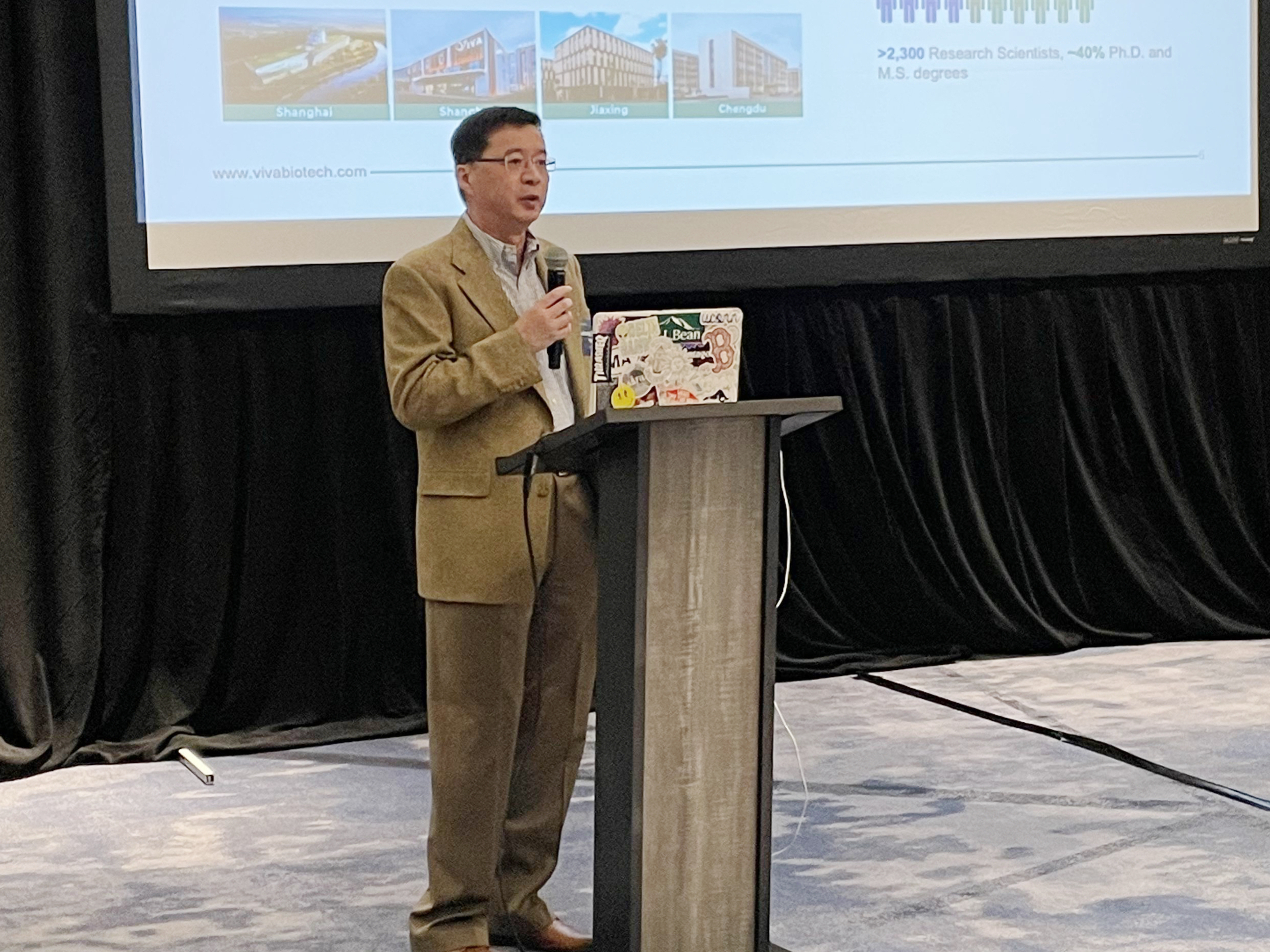 (CSO of Viva Biotech, Zhixiong Ye, Ph.D.)
Mr. Simon Bury, Vice President and Global head of BD at SYNthesis, shared the overall progress and advantages of SYNthesis, a subsidiary of Viva Biotech. He emphasized that SYNthesis has extensive experience and knowledge in "Hybrid" structures, integrated project management, molecular synthesis of PROTACs, and ADCs.
(VP and Global head of BD at SYNthesis, Simon Bury)
Dr. Jianguo Ma, Senior Vice Director of Viva Biotech and CEO of Langhua Pharmaceutical, explained the new, one-stop CDMO services. These services include APIs to formulation which take place at three major R&D centers. Langhua has a first-class core leadership team, sufficient capacity supply, reliable GMP and EHS management system, among many other strengths.
(Senior Vice President of Viva Biotech, CEO of Langhua Pharmaceutical, Jianguo Ma, Ph.D.)
Dr. Xueheng Cheng, CTO of Viva Biotech, introduced in detail several of Viva's cutting-edge technologies such as FBDD-based crystal soaking, membrane protein-targeted drug discovery, Cryo-EM, SPR, ASMS, bioassay, and antibody drug R&D. These technologies continually assist our clients' discovery of seedling and lead compounds.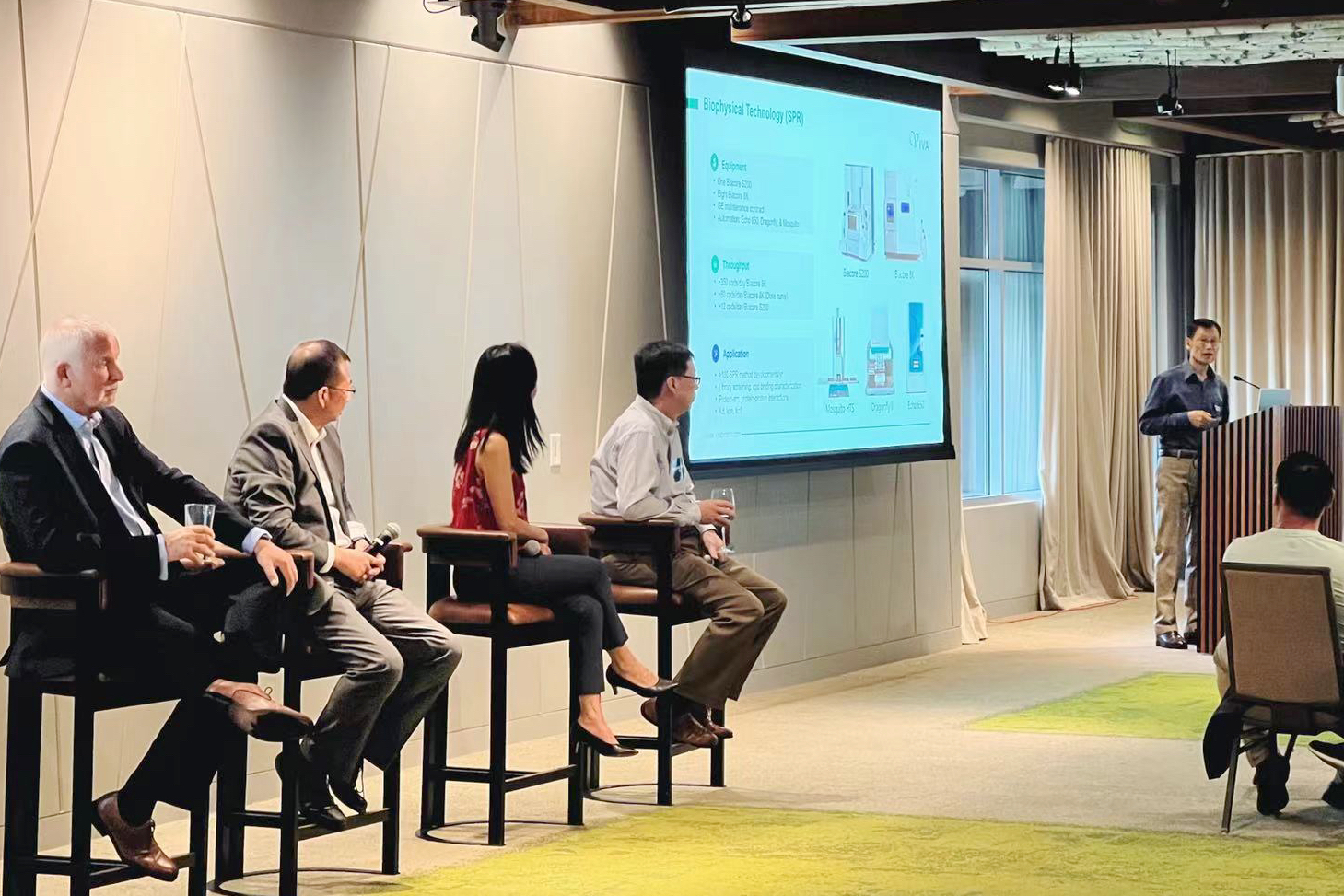 (CTO of Viva Biotech, Xueheng Cheng , Ph.D.)
After the presentations, participants networked, discussed industry hotspots, and exchanged new ideas.

(Boston venue on the left, San Diego venue on the right)
We provide one-stop integrated services to global innovative drug discovery companies from early-stage structure-based drug development to commercial drug delivery. We continue to improve our CRO services and have built complete PROTAC technology services based on our strong drug discovery platform, providing a full range of services from target protein preparation to preclinical candidates. On the CDMO side, we continue to strengthen our CMC services and actively expand our capacities. Through these receptions, we hope to inform our clients and partners on our latest progress to enhance mutual communication and cooperation and better promote the global innovative drug development.